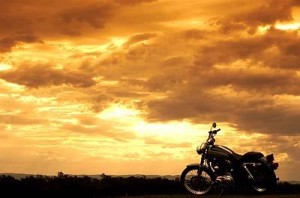 Frequently Asked Questions
I need my endorsement. Do I need to take a class, or can I just test?
You have two options. You would come to us as student, or a tester.
STUDENT: You can take either the Basic or the Intermediate Class. Both of these classes include classroom time and riding practice. Testing is included at the end of class. We provide a motorcycle for you to use or you can bring your own (with proof of insurance and registration).
TESTER: You can make an appointment with us for testing. Written testing and Riding Skills testing is done by appointment. Motorcycles are not provided for testers, so you need to bring your own. For more information, please see our DOL Testing page.
How do I get my 25% returning student discount?  
Returning customers: enter coupon code NEXT CLASS for a 25% discount during your checkout or call us to have a price adjustment made!  Please note: This discount is not applicable for your FIRST class with us.  It is for previous students who return for more training classes.
Do you offer a military discount?
Yes, we do offer a discount for enlisted military personnel who are currently stationed in Washington.  Cost for military to take a class is $99. (seats are limited)
How many classes do I have to take?
Every person learns at a slightly different pace and confidence comes with practice.  Our classes are designed as a series, but you can take just one class if you like!  Many people start out with either the Basic or the Intermediate Class, and come back to take the On-Street or Advanced Class as a spring refresher, or when they get a new, larger bike that they want to become proficient in riding.
I already have my permit, do I have to take a class?
No.  We offer testing " a la carte ".  You can schedule with us to take a written test, a riding test or both.
What if I only want to ride a SCOOTER?
Students who want to ride a scooter are allowed to ride their personal scooter (with proof of liability insurance, a safety inspection and Spokane MotorSchool permission BEFORE class begins) in the JumpStart, Basic, or Intermediate classes!  Call the office to register and provide us with your scooter's make, model and engine size when registering.
Do I need a motorcycle permit to take the class?
A motorcycle permit is NOT needed to take a class.  Most of our classes are conducted in a private parking lot and we do not operate the motorcycles on any public roadways during the class.  However, if you are registered for our On Street Class, or one of our classes and will be using your personal bike in the class, you MUST have a valid motorcycle permit to ride on any public roadway.  To obtain your motorcycle operators permit, you need to pass a written test and take your form to the Dept of Licensing.
What if I don't want to wait so long to get into class?
We accept STANDBY or WALK-IN students into all our classes!  You simply show up at the beginning of class, (on a first come, first serve basis), check in with the instructor, and if someone does not show up for their class, you can have their seat!  This works for all our classes.  Tuition fee is required before joining the class.
Should I study anything before class begins?
When you arrive at class, you will be given your student book and all material will be covered during the course of the class.  The student book is available online in a pdf format for those who would like to visit www.msf-usa.org click on library, scroll down to Cirriculum Materials, Basic RiderCourse Handbook.
What is your refund policy?
Tuition is non-refundable.  If you find you are unable to attend class, contact the office immediately and with a minimum of 5 business days, we may be able to reschedule you at no addtional charge, provided there is availability.  You may also give your seat to another person after notifying us.  Your tuition fee is for motorcycle training and does not guarantee a passing score.
What if I don't pass?
Students who complete the entire class, but do not receive a passing score on either your written or riding test, we allow one re-test, at no additional charge within 90 days. Your retest can be scheduled for another day, simply call the office to schedule your retest with another class. Ask yourself, do I need more practice or was I simply nervous or fatigued? Ask your instructor for their professional opinion. Your instructor will let you know if they feel you need more practice or simply need to re-test with another class.
I passed my test, but I know I'm not ready for the road yet. What should I do?
We always suggest to students that they begin the adventure of riding having first given thought to the safest times and best locations. One thing you can do is to sign up for our On-Street Course. This is a great way to get practice time and professional instruction on the road!  Another option is to sign up for Private Lessons which will give you some additional practice in the parking lot, using one of our bikes or your own bike in a safe professional environment with a certified instructor.
What if I drop out during a class?
Sometimes students will decide they are not ready to ride. They may be tired, anxious or fatigued. Sometimes weather, nervousness or coordination may be a factor. If you are unable to complete the class, you can always sign up to take the class again. (Each exercise and classroom segment must be completed with the class you are registered for in order to qualify for testing and a class completion card.) But there is no limit to how many times you may register and take the class! Ask yourself why you were unable to complete the class. Ask yourself what was your motivation for learning to ride. Ask your instructor for their professional opinion. Your instructor will let you know if they feel you would benefit from Private Lessons, or if another day or time might be all that you need.  Consider enrolling in our JumpStart Class, with a smaller class size and more time to focus on just the basics, students dramatically improve their confidence and success.  Then take the Basic Class again to earn your endorsement!
What if I was asked to leave?
Your instructor determines when and if a student should be excused from the class. These reasons could either be because of failure to respond to coaching, an intentional unsafe act, poor attitude or purely due to risk. We conduct a safety class and believe strongly in providing every student with a safe, positive environment in which to succeed. Consider taking our JumpStart Class to work on the basics, or Private Lessons for the one-on-one time you may need.  If a student drops a motorcycle twice, they will also be asked to leave. This is simply an insurance regulation that we must comply with. (Each exercise and classroom segment must be completed with the class you are registered for in order to qualify for testing and a class completion card.) But you can always sign up to take the class again. There is no limit to the number of times you may sign up, or take any of our classes!
What if I drop the motorcycle?
If a student drops a motorcycle twice, your instructor is required to ask you to leave. We know it was an accident and the class is full of Novice students, but policy dictates how many times a student may drop a cycle before being released from class. You may sign up to take the class again, or, consider a Private Lesson or our JumpStart Class to help you gain the confidence you need before taking the Basic Class again.
What if I disagree with the Instructors decision?
We are available to discuss any discrepancies with you and to offer a solution. Please contact the office at (509) 326-6181 and arrange either a telephone interview, or an in person meeting with the owner. We value your opinion and welcome any feedback you may have. We wish to employ only the highest quality certified instructors and will take any complaints and issues very seriously. Regular office hours are M-F from 10am – 2pm. If you are unable to reach us during that time, we urge you to leave us a message. We check messages regularly and will return your call as soon as we are able.
What is on the Written Test?
The written test is multiple choice and questions come from the MSF Student Handbook used in class and the Dept of Licensing "Motorcycle Operators Manual".  Both are available online. A passing score is 80% or better.
What is one the Riding Test?
The riding test consists of 5 scored "runs". The cone weave and normal stop, the turn from a stop and u-turn, the swerve, the quick stop and a cornering exercise. A video of each is available online at www.endorseyoursport.com. A passing score is 85% or better.
"My motorcycle can't get through the test"
The only motorcycle that has had any difficulty accomplishing any of the patterns we use in class has been the "Boss Hoss" and it is not due to the size or weight of the motorcycle, but simply because that model does not have a clutch (it is an automatic with a Chevy V-8 engine in a motorcycle frame) and idle speed was too fast to complete the U-Turn.
Let us teach you the correct techniques to use and with dedicated practice, you will be surprised at what your bike can really do!  Our instructors use their personal bikes to teach the Advanced Rider Class and you are welcome to come watch all the different makes and models complete the riding exercises.  From Harley Davidson Road Kings to Honda Sabres, Yamaha V-Stars, Sport bikes, Triumphs, Gold Wings, BMW's and Kawasaki KLR's, it's so important to practice on the bike you'll really be riding and to keep your skills sharp and fresh!  Riders who take the Advanced Class commonly say "I can't believe how much I learned", "I didn't think my bike could do that" and "my confidence level on my own bike increased dramatically".
Is the Basic Class easier than the Intermediate Class?
The Basic Class covers more information and is designed for a beginning rider, so time is spent teaching students the basics; everything from starting and stopping the engine, how to use the clutch, how to shift and stop.  The Intermediate class skips over those basic things, assuming the student already knows the basics.  The riding test is exactly the same for both classes. The Basic Class isn't really 'easier', it's just slower and covers more information.  Both classes cover the same "street strategies" and risk management so students learn how to ride safely in traffic.
Why is it so hard to get someone in person on the telephone?
We apologize for the difficulty in reaching us.  Please rest assured that phone calls are returned in the same order in which they are received.  We are sometimes unable to answer every incoming call due to the sheer volume of calls during peak season.   Please leave a message and we will return your call as soon as we are able.   Our office person is also one of our Instructors, and may be teaching class or servicing the classroom or riding facility.  When your call is returned, you will have our complete attention and we will be happy to take the time to answer all your questions and register you for class.  Your call is very important to us, and we appreciate your patience.  Leaving more than one message will not expedite the manner in which you will be contacted.  Speaking clearly and slowly and remembering to leave your phone number is essential!
Call Spokane MotorSchool at (509) 326-6181 for more information. We are committed to your success and are willing to go the extra mile to make sure your needs are met!